---
Irina Vakhromeeva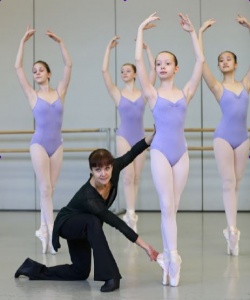 Ms. Vakhromeeva's ballet career began in the world famous Vaganova Ballet Academy, where she received her MFA Master Degree of Ballet Artist. Currently she is a PhD candidate at the Bolshoi Ballet Academy. She toured throughout the world as a soloist and Principal dancer with the Moscow Ballet Company, Festival Ballet, International Ballet Company, Metropolitan Ballet.
Ms. Vakhromeeva danced principal roles in many ballets, including The Nutcracker, Giselle, Sleeping Beauty, La Fille Mal Gardee, Don Quixote, Paquita, Italian Caprichio, Flame of Paris, The Swan Lake, Corsaire, Cinderella, The Snow Maiden, The Blue Bird, and many others.
As a Principal Guest Artist, Teacher and Choreographer, Ms.Vakhromeeva worked with Hamilton Ballet in Canada, International Ballet in Taiwan, Krassovska Ballet Jeuness, and Galveston Ballet where she staged La Bayadere, La Fille Mal Gardee, Napoli, Les Sylphides, Carmen, The Nutcracker, her own choreography, The Blue Bird, Solitude, Spring Verse, Glinka Waltze, and others.
Her knowledge of the most current teaching methods and styles has produced many young dancers who have been accepted into some of the world's greatest schools, including Bolshoi Ballet Academy and Vaganova Ballet Academy, Julliard School and University of North Carolina School of the Arts, and to professional ballet companies.
---
Vadim Bogomolov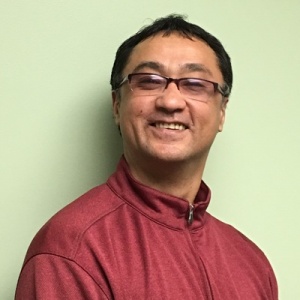 Vadim Bogomolov is a graduate of the world-famous A. Y. Vaganova Academy of Russian Ballet in St. Petersburg, Russia.  He completed the full 8 years of professional Ballet Academy training with coursework including Classical Ballet, Variations, Pas-de-Deux, Character Dance, Historical/Courtly Dance, Ethics, Esthetics, Piano, Repertoire (including participation in professional ballet performances at the Mariinsky Ballet Theater), as well as histories of music, arts, ballet, and ancient and modern world theatres.  Mr. Bogomolov studied with some of the most famous and world renown ballet teachers, including N. Serebrenyakov, I. Gensler, O. Sokolov.  After graduating, he enjoyed a spectacular career as a ballet dancer. His professional repertoire includes Paquita pas de trois, Nutcracker Cavalier, Albrecht (Giselle), Prince (Cinderella) and many more.  Mr.Bogomolov is the recipient of the title of "Ballet Master" awarded by the Moscow State Academy of Choreography (Bolshoi Theatre, Moscow) upon successful completion of their program in ballet pedagogy (the Russian methodology for teaching ballet).  As a teacher he has worked at several ballet and dance schools and has enjoyed setting a number of full-length ballets including Giselle, Cinderella, and Nutcracker.  He has coached award winning students for ballet competitions including Youth America Grand Prix.
---
Erica Bull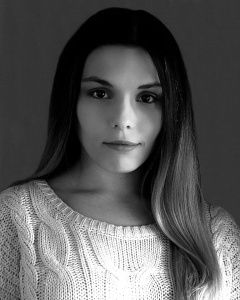 Erica Bull began her dance training recreationally in Dundalk, MD at age four. She was accepted into The Seton Keough High School's Dance Company through audition. There, she learned the foundational levels of various dance genres. During her time on the company, she performed in events such as Mid-Atlantic Congress, LZ Maryland (Maryland Public Television), and the 2016 NDEO (National Dance Education Organization) Conference. Erica began her technical training her sophomore year at Jamz Dance Studio. She trained in all areas of dance and competed on their competitive team and hip hop crew. She also was asked to be a part of a college student's short film that revolved around dance. Her senior year, Erica was President of her high school's chapter of NHSDA (National Honor Society for the Dance Arts) and took on multiple tasks such as organizing a dance benefit concert supporting funding for Ailey Camp. After graduating from Seton Keough, Erica received a Fine and Performing Arts Scholarship from Goucher College through an audition and interview process. Erica now attends Goucher College to obtain her Bachelor of the Arts in Dance. While in college, Erica has been exposed to numerous opportunities such as the chance to be in a West African short film entitled "The Kid In Me" (choreographed by Eddie Stockton). Outside of college, Erica has gone onto judging and teaching at dance scholarship and company auditions at Notre Dame Preparatory High School. This exposed her to future choreographic opportunities for their company in 2020. She also has taught a master class at the Independent Dance Network (IDN) Festival alongside studio teachers and college faculty from Towson University, Goucher College, Salisbury University, and Anne Arundel Community College. Currently, Erica is a teacher and choreographer for Jamz Dance Studio. In her first professional choreographic season, Erica received multiple choreography awards, special recognitions, and overall placements. Her work was accepted into the 2019 Ascending Choreographers Festival and was chosen as an audience favorite. Her future work will be presented in a split-bill performance in 2020. Erica is looking forward to continue choreographing and teaching at Jamz.
---
Giana Krieger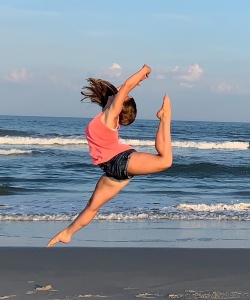 Giana Krieger began her dance training in Dundalk, MD at age four. At the age of thirteen Giana began her technical training at b.funk Dance Company where she studied ballet, tap, jazz, lyrical, contemporary, musical theatre, and hip-hop. During her time at b.funk she was also a member of their competition team and trained under the direction of Angela Worley, Becky Funk, Jen Combest, Desiree Koontz- Nachtrieb and Lauren Weber. Giana finished her training at Savage Dance Company where she was a member of their award winning competition team. During her time at Savage Giana trained under Nichole Savage, Brandy Fry, Alexandra Tyler, and Brandon Russell. While competing Giana won many awards and overalls at the regional and national level.
After Giana graduated high school she began teaching for local studios in the Baltimore area. During this time she began choreographing for their competitive teams with all ages and levels. Giana's pieces have won many overall awards, special judges awards, and entertainment awards. In 2019 Giana's work was accepted into the Ascending Choreographers Festival. When Giana is not working with her home studios she spends her time subbing for other studios and even as a master guest teacher at local studios.
Giana has continued her educational studies at the University of Baltimore where she is pursing a degree in Business Administration with a specialization in Marketing. In the Spring of 2019 Giana graduated with her bachelors degree and is currently continuing her education studies to obtain her masters degree in Business. Giana looks forward to working with all of the students at Jamz and is excited for the upcoming season.
---
Margareta Chughtai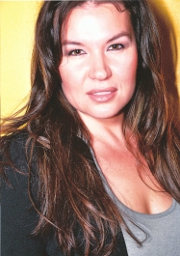 Margareta Chughtai is Culture Shock, Washington, D.C.'s own co-founding executive director and previous artistic director. She has performed and instructed nationally and internationally for the past twelve years and directed for the last six years.
Margareta started dancing with Culture Shock San Diego where she was a core company dancer for over 5 years. After starting as a dancer in California doing shows with Culture Shock for Sea World, Paramount Pictures, and Woman's Final Four Basket Ball Tournament, she then moved to the east coast where she co-founded Culture Shock D.C.
Margareta studied in many studios such as The Edge Performing Arts Center in Hollywood, CA and The Broadway Dance Center in New York City, NY; she is now an accomplished choreographer, instructor, and director as well who has given workshops in Europe at renowned studio's such as Pineapple Studios in London, England and Colombo Dance Factory in Zurich, Switzerland.
---
Shawn "SHOGUN" Stevens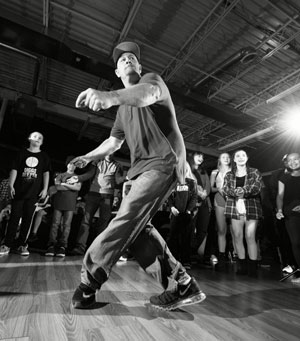 Shawn "SHOGUN" Stevens has been b-boyn' (breakin') since 1996. He is the co-founder and acting president of the Deadly Venoms Crew. His crew has competed in many competitions on the east coast. They are responsible for rebuilding the bboys' status in the Baltimore club scene. Shawn has performed with hip hop legends Big Daddy Kane, KRS-One, Special Ed, Talib Kweli, and RUN DMC. At Bboy Jam Unbreakable 3 Shawn received a special Bboy honors award for representing bboyn' hardcore for the last 14 years in the DMV area. Past students of his have included former faculty members Jamile McGee ("So You Think You Can Dance" 2nd runner up Season 1), and Ben Gonzales.
Shawn is involved with the Competitive Break'n League for Kids and Rock the Box National Championship.
---
Katie Griffith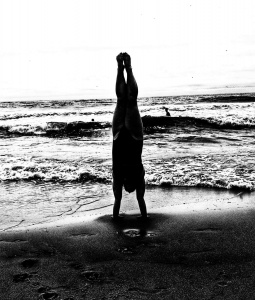 Katie Griffith spent her entire youth doing gymnastics. She doesn't remember a time before gymnastics. As her mother says "Katie was born a gymnast". Katie trained and in her teen years taught at Docksiders Gymnastics in Millersville Maryland. She ended her gymnastics career in 2000 as the Anne Arundel County Champion, Maryland State Champion and Team Captain of the Mid-Atlantic Regional Team. Following her 18 year gymnastics career, Katie attended Springfield College in Springfield Massachusetts. She graduated in 2004 with a Bachelor of Science degree in Therapeutic Recreation and Certified as a Recreation Therapist. For the past 15 years Katie has worked in the healthcare field as a Recreation Therapist and Dementia Specialist. Last year Katie made the decision to leave healthcare to order to dedicate her time to us here at Jamz. Along with Acro, Katie is an instructor for our new Bungee Fitness Program and soon to come, Toddler Fitness.
---
Ryan Johnson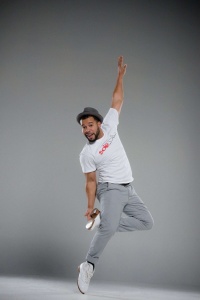 Ryan Johnson is the Founding Artistic Director of SOLE Defined Percussive Dance Company. He is an award winning performer who has been called "purely amazing" by Septime Weber, former Artistic Director of The Washington Ballet. As a virtuosic creator, his work has been performed globally throughout Africa, North America, South America, Central America and South East Asia.
Johnson's performance career has included The Beatles LOVE by Cirque Du Soleil as Sugar Plum, and One Drop by Cirque Du Soleil. He was a part of the NYC and touring cast of the hit show STOMP where he played Particle Man and Ringo. For six years of his career, Johnson was the soloist and production manager for the world-renown step company Step Afrika!, and the resident tap dancer for The Washington Ballet's "The Great Gatsby." Johnson performed in the Tony Award-winning show After Midnight created by Jack Viertel and choreographed by Warren Carlyle with NCL Productions.
Johnson credits his passion for the arts to his mother, Vanessa Jackson, and tap teacher Mary Slater. Johnson strive to create innovative programing addressing topics that will create positive change across the globe.
---
Joelle Szychowski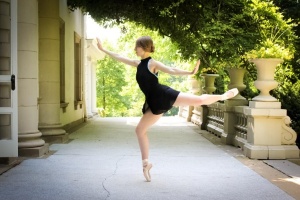 Joelle began dancing at the age of two and studied ballet, tap, jazz, and modern until the age of eleven, when she focused her training in on ballet and modern and got her first pair of pointe shoes. During these years, she trained at Harford Dance Theater, Dance Conservatory of Maryland, Maryland School of Ballet and Modern Dance, and Central Pennsylvania Youth Ballet, while performing in productions such as the Nutcracker, Harriet's Happiest Halloween, Canvases, and more. After graduating Fallston High School, Joelle attended Goucher College for four years, where she studied Ballet, Pointe, Tap, and Africanist Dance, as well as Horton, Graham, and Humphrey-Limón/Release techniques of Modern Dance, Anatomy, and Dance Composition. While at Goucher, she had the privilege of studying with Elizabeth Lowe-Ahearn, Tim Fox, Linda Garofalo, Iyun Ashani Harrison, Katherine Morris, Iquail Shaheed, Eddie Stockton, and Rick Southerland, and worked with guest artists such as Gabrielle Lamb, Sidra Bell, Alan Hineline, Adam Hougland, and Laura Meade. She graduated Goucher in spring of 2018 with a B.A. in Dance and a B.A. in Mathematics. Joelle is passionate about sharing the love of dance with her students and loves to see the joy and freedom it provides them.
---
Samm Cwik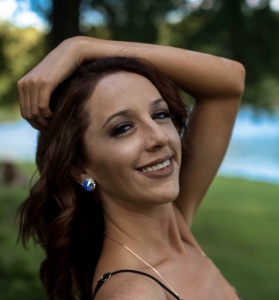 Samm Cwik began her dance training at the young age of 3 at Dance Explosion in Glen Burnie, MD. By the age of 5, she had been asked to join the competition team and became the youngest member on the team. She performed many group dances, as well as multiple solos. On June 24, 1996 she won "Top Tiny Tot" and "Most Entertaining". This was her first "title" award, and it happened on her mom's 30th birthday! As she got older she was able to win many title awards, and high score awards. She was Petite Miss Headliner 1997, Miss Photogenic 1998, Junior Miss Showbiz 2000, and 1st runner up for Miss Showbiz at Nationals in 2000. She danced competitively until the age of 11 and over the course of those 6 years she won over 98 trophies. She was technically trained by many well known dancers such as Dijuan Dinzey, Tim Roberts, Colleen Parker, and Michele Wiles. She also got to participate in many dance seminars with renown dancers such as Mia Michaels, Desmond Richmond, Susie Taylor, and Mike Minery. After leaving Dance Explosion she became a recreational cheerleader for Andover Apaches in Linthicum, MD, and also was on her high school's cheerleading team from 2004-2006, dance company from 2005-2007, and poms from 2007-2008. In her sophomore year of high school, she became an "All State Dancer" with only 11 other dancers in the entire state of Maryland. This was a huge honor for her being that she was the only dancer from her school that was selected. As an adult she was a member of a professional dance team known as the Baltimore Shuckers, who peformed at semi-pro basketball games, and she has trained with the Baltimore Blast Cheerleaders, Ravens Cheerleaders, Wizard Girl Dancers (Washington Wizards), and The Washington Redskins Cheerleaders. Samm is professionally trained in ballet, tap, jazz, lyrical/ contemporary, hip hop, modern, and afro-carribean. Although she has danced all styles for many years, tap has always been her strongest, and her favorite to perform. Samm truly believes she was meant to be a tap dancer. Her late grandmother was always elated when she got to watch Samm tap, so she always says she taps for her grandmother. This is Samm's first teaching opportunity, but she is so excited for the journey. She is looking forward to sharing her passion for dance with children who enjoy it just as much as she does. One of her favorite dance quotes is "Nobody cares if you can't dance well. Just get up and dance. Great dancers are great because of their passion."- Martha Graham.
---
Ryan Jiggetts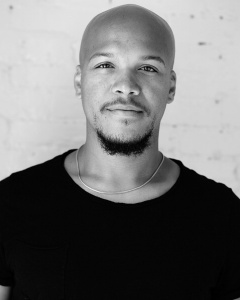 New to Jamz this year is Mr. Ryan Jiggetts! He will be teaching our intermediate and advance hip hop classes! Mr. Ryan was born and raised in Baltimore, Maryland. He started dancing at the age of 11 and joined the senior hip hop crew at B. Funk Dance Company when he was 17 years old. Mr. Ryan has been teaching hip hop at local studios for four years now. He enjoys teaching dance as it allows him to share is knowledge with his students and it allows him to watch his students grow. He attended Frostburg State University and currently has a Bachelors of Science degree in Exercise and Sport Science. He also is a Certified Personal Trainer through The National Strength & Conditioning Association. Ryan is currently pursuing his Nursing degree. Give Mr. Ryan a big welcome to the Jamz family!
---
Jason Kidd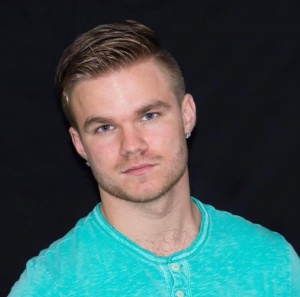 Another new face to Jamz this year is Mr. Jason! Mr. Jason will be teaching our beginner hip hop classes and animation/Poppin' classes. Mr. Jason began dancing at Baltimore Dance Center where he learned the various styles of hip hop and ballet. Mr. Jason was a member of their dance company, Dance Attack where they won several awards including Baltimore's Got Talent in 2009. Mr. Jason furthered his dance training at Jamz Dance Center where he trained in hip hop, ballet, jazz and contemporary. He was a member of their hip hop crew and Boyz Crew where he won several regional and national title awards. Most recently Mr. Jason competed in the IDO Dance Championships in Germany for Electric Boogie (Popping) where he placed 5th in the world. Mr. Jason has also auditioned for season 10, 12, and 14 for "So You Think You Can Dance" and made it in the top 26 for season 12. In season 14 he was in their opening piece. In 2018 Mr. Jason received his certification in Ballroom teaching. We can't wait for Mr. Jason to be teaching for us this fall!
---
Marjorie McBurney – Front Office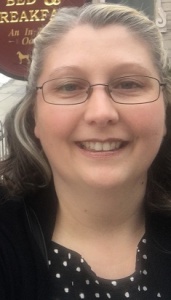 Marjorie's journey into the dance world began 11 years ago, when her son decided he wanted to tap dance. She and her son joined JAMZ 8 years ago and now consider it a "home away from home".  One of the many smiling faces you will see at the front desk belongs to Marjorie.  Marjorie performs many tasks at the studio including the registration of classes, organizing schedules, emailing staff and families, organizing workshops and competition details, helping with costume designs, minor house-keeping and even doctoring minor cuts and scrapes.  During the day she works as a Respiratory Therapist and the Respiratory Education Coordinator at JHBMC.