Fall-2022-2023-Schedule

JAMZ-Summer-2022-Class-Schedule

Please make every effort to be at class on time.
Late students may be asked to observe class for lack of proper warm-up.
Dance Etiquette
Please wear a cover over dance clothes when coming & going from the Center.
Please put full names in all dance shoes so we can return them to you when we find them.
Please remove all jewelry, except stud earrings, for dance classes and performances.
Please do not bring Gum or candy into the studio.
Please bring water bottles only into the classroom.
Please keep all belongings in the cubby holes provided to prevent injury.
Please take small children to the bathroom prior to class.
Please be respectful to teachers, directors, staff members and fellow students at all times.
Please do not hang on bars, mark walls, touch mirrors, play with equipment and computers.
Please notify the center if the student is going to be absent or late.
Please keep voices down while classes are in session. You may pass through classes at the discretion of the front desk staff. However, please try and wait for the class to break.
ALWAYS THANK YOUR TEACHERS AFTER CLASS!!
---
Please follow the dress code based on
the type of class that the student is enrolled in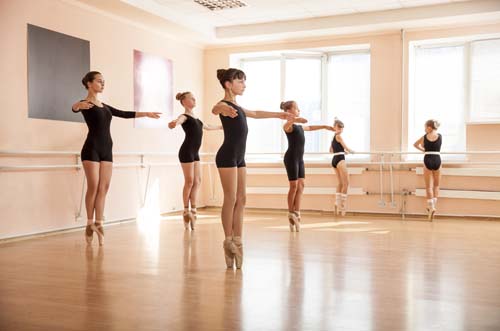 Ballet
Girls: Black leotard, Pink Tights, Pink ballet shoes.
Girls Shoes: Pink Ballet Shoes
Boys: White T-shirt or tank, Black dance pants or shorts
Boys: Black Ballet Shoes
Fitted Cover Ups are allowed for Warm-Up Only!
Jazz & Contemporary
Girls: Leotard or Sports bra, Fitted Dance shorts
Girls Shoes: Foot Undies or Jazz Shoes
Boys: T-shirt or tank top, sweat pants or sweat shots
Boys Shoes: Foot Undies or Jazz Shoes
Fitted Cover Ups are allowed for Warm-Up Only!
Hip Hop & Breakin'
All Students: Baggy Sweat Pants, T-Shirts, Tank Tops and/or Hoodies
Please keep in mind that JEANS, JEAN SHORTS, SKIRTS, JAZZ SNEAKERS, PAJAMA PANTS and DIRTY SHOES will NOT be permitted in class at any time